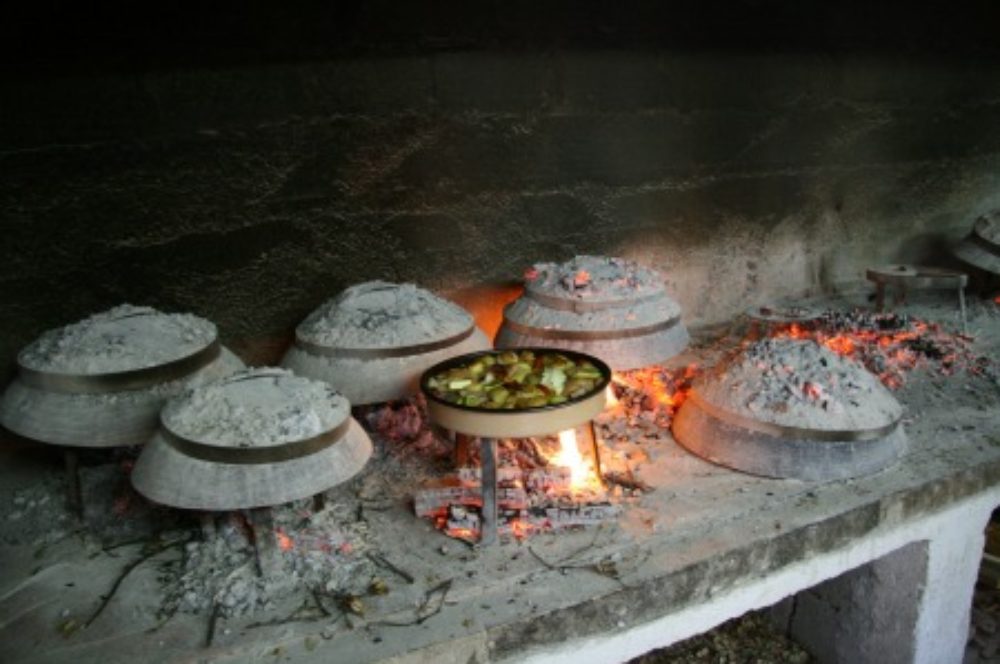 Cooking under the bell was new to me until a holiday in Croatia this summer and it proved to be the highlight of otherwise rather uninspiring eating.
A metal cooking pot called a peka is filled with potatoes, meat, fish, or in our case octopus and placed on hot charcoal. The lid or bell is put on and more charcoal is heaped on top so that the food is cooked slowly from above and below.
As you might imagine, this long, slow cooking in all it's own juices produces a wonderfully tender and flavoursome dish. It's a traditional Balkan way of cooking I've since discovered.
We saw it first, being cooked by the owner our Dubrovnik B & B, not for us but for a family feast.  His tip for tender octopus – freeze it for 24 hours first.  But later in a memorable dinner in a little restaurant in the hills above the village of Viganj on the Peljesic peninsula we arrived to see half a dozen bells set up on a long shelf in an outhouse that was as hot as Hades.  While they finished cooking we sat under shady vines drinking chilled Croatian wines before tucking into to our 'bell' of tender octopus and potatoes, now softened and saturated with the cooking juices.
Photographs © Paul Bader